2018 Chrysler Pacifica for sale in Bentonville, Arkansas | McLarty Daniel CDJR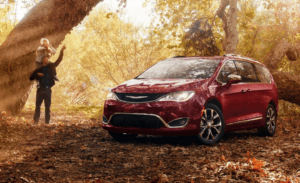 McLarty Daniel CDJR has a 2018 Chrysler Pacifica for sale in Bentonville, Arkansas.
You need a minivan, but you don't want the minivan that appears in your head when someone says the word "minivan": boxy, dull, a rolling admission that you've given up on style over boring practicality. Don't you wish there was a minivan that didn't LOOK like a minivan? If that's your dream, the folks at Chrysler have your back, with the 2018 Chrysler Pacifica. Beautifully designed and proportioned while still retaining the haul-them-all capacity of a minivan, the 2018 Chrysler Pacifica is the minivan for people who always said they'd never be caught dead driving a minivan! If you're looking to buy a 2018 Chrysler Pacifica in Bentonville, Arkansas, stop in today at McLarty Daniel CDJR for a test drive, or shop our big selection online!
DESIGN: From the refined front end to the available hands-free rear liftgate, the 2018 Chrysler Pacifica is several cuts above what passes for minivan styling from most makers these days. Up front, an elegant, curved front fascia features tasteful chrome surrounding expressive, winglike headlights with available LED lighting. In profile, the 2018 Chrysler Pacifica continues showing its beauty with a gently curved roofline and a full-length sideglass with disappearing pillars that lend a lightness to what could otherwise be a very blocky shape. The compound-curved rear liftgate with integrated spoiler can be opened with a wave of the foot under the bumper. Want a more athletic look? Try the S-appearance package with a slightly more ground-hugging look and stylish black accents.
COMFORT: Inside the 2018 Chrysler Pacifica, there's seating for up to seven, with 243 possible seating configurations and luxurious amenities like available leather trim as well as power front seats with available heating and ventilation. If you've ever owned a minivan, it's unlikely you have fond memories of wrestling the incredibly heavy rear seats in and out when it's time for cargo duty. The 2018 Chrysler Pacifica takes the grunt out of switching up the rear seats with Stow N' Go, which allows the second and third row seating to flip into clever pockets in the floor and disappear at the touch of a button. Up top, there's the twin-panel moonroof, while available features like turn-by-turn navigation, charging ports and a huge front touchscreen abound.
SAFETY: Getting you and your passengers there and back is job one, and the 2018 Chrysler Pacifica works overtime all the time with some of the best safety features of any minivan, starting with a hidden safety cage of high strength steel built right into the passenger cabin, plus the added safety of steel bars inside the doors to guard against object intrusion in the event of a crash. A 360-degree surround view camera allows you to look all around your Pacifica on the color touchscreen up front, while a full complement of advanced airbags surround you and your passengers in a 360-degree cushion of instantaneous protection at all times. Knowing that an instant of inattention can lead to tragedy on the road, the Full Speed Forward Collision Warning allows you to drive with confidence, with the system issuing audio and visual alerts if it detects an oncoming obstacle as well as applying emergency braking to help you avoid a collision.
Packed with great safety features and incredible design, the 2018 Chrysler Pacifica is the minivan that can easily make you forget everything you think you know about minivans. If you're thinking you might buy a 2018 Chrysler Pacifica in Bentonville, Arkansas, come see us at McLarty Daniel Chrysler Dodge Jeep Ram! We have the 2018 Chrysler Pacifica in stock and ready to roll, and our volume deals give us the power to put you in the driver's seat of the car you need at a price you can afford. Stop in today for a test drive, or shop our huge selection online right now!
Click here to contact McLarty Daniel CDJR of Bentonville, or click here to visit our finance department.