2018 Dodge Charger for sale near Rogers, Arkansas | McLarty Daniel CDJR of Bentonville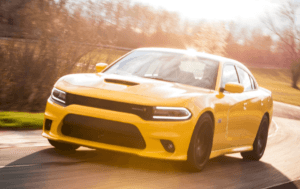 McLarty Daniel CDJR has a 2018 Dodge Charger for sale near Rogers, Arkansas.
Know one very cool thing about living now? The muscle cars are back and better than ever! Dodge is fielding cars these days with horsepower numbers that dwarf even the most legendary Mopar muscle of the 1960s, plus styling and safety that puts the old dogs to shame. That brings us to the 2018 Dodge Charger! Featuring a winning combination of muscular styling and old-fashioned horsepower, it's definitely the cure for the common commute. If you're in the market to buy a 2018 Dodge Charger near Rogers, Arkansas, we've got them at McLarty Daniel CDJR of Bentonville, and you can own one for less than the price of a loaded minivan! Read on for more details!
Click here to shop our selection of 2018 Dodge Charger models
PERFORMANCE: Let's talk horsepower. From the word go, the 2018 Dodge Charger is all about backing up its aggressive good looks with gobs of good ol' grunt, putting the fun back into your daily commute the old fashioned way: by pushing you back in the seat. The standard engine in the 2018 Dodge Charger is the 3.6-liter Pentastar V8, putting out a very respectable 300 hp. For V8 power and a bit more go-pedal, try the legendary 5.7-liter Hemi, with 370 hp. If that's not enough to sate your need for speed, there's the 392 cubic inch Hemi V8! Standard on Charger R/T Scat Pack, Charger Daytona and Charger SRT cars, the 392 puts out a whopping 485 hp and 475 lb-ft. of torque. Dodge isn't done yet, though: for ultimate horsepower, pony up for the 2018 Charger Hellcat, with the amazing 6.2-liter supercharged Hemi, cranking out an astounding 707 horses! All are back by the charger's smooth-shifting Torqueflite 8-speed auto, with available steering wheel mounted paddle shifters.
DESIGN: Unlike a lot of sedans that look like they were stamped out of clay in the same factory, no matter which make, the 2018 Dodge Charger speaks of the long heritage of Dodge performance and styling with every panel, line and curve. Available in a dozen eye-popping colors, including Go Mango Orange, TorRed, and searing Yellow Jacket Yellow, the 2018 Dodge Charger's body panels look to the future without discarding the past, with deep side scallops that recall the Dodge Chargers of the late 1960s, the seamless LED "racetrack" light strip in back, and a series of ever-more aggressive hoods on performance models, including the single wicked scoop on SRT 392, Charger Daytona and Scat Pack models, and the functional triple-scoop setup on the Charger SRT Hellcat. Inside, the interior lends a cockpit feel, with features like alloy racing pedals, seats with available leather and deep bolsters and lumbar supports to keep you planted during hard cornering, and a demon-red 200 mph speedometer.
SAFETY AND TECHNOLOGY: While the muscle cars of the good ol' days were really, really terrible at keeping their occupants safe and sound if all that power turned around and bit them in the keister, the 2018 Dodge Charger is packed with active and passive safety features. The rear features a standard ParkView backup camera, with the feed piped to the high-definition monitor in the center dash. A complement of advanced airbags is always there if good times go bad, as is Dodge's advanced brake assist system, which can issue audible and visual alerts if a crash is imminent, and automatically apply the brakes if you don't react in time, and Ready Alert Braking, which prepares the braking system for a quick stop in milliseconds if you suddenly lift you foot from the accelerator.
In short, why drive a lumbering SUV or a boring pickup when you can have two tons of American steel and sex appeal in your driveway, courtesy of the 2018 Dodge Charger? While it's not going to give you back the good ol' days, it can sure help you chase some good ol' tomorrows, with styling, available horsepower and safety that are second to none. If you want to buy a 2018 Dodge Charger near Rogers, Arkansas, stop in today for a test drive at McLarty Daniel CDJR of Bentonville!
Click here to contact McLarty Daniel CDJR of Bentonville, or click here to visit our finance department.
McLarty Daniel CDJR is a new and used car dealership that is proud to serve the communities of Northwest Arkansas, including West Fork, Tontitown, Rogers, Bentonville, Bella Vista, Fayetteville, Lowell, Siloam Springs, Pea Ridge and all points in between!