2018 Dodge Grand Caravan for sale in Bentonville, Arkansas | McLarty Daniel CDJR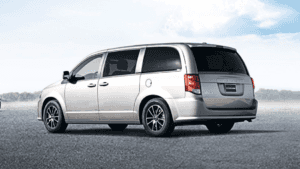 McLarty Daniel CDJR has a 2018 Dodge Grand Caravan for sale in Bentonville, Arkansas.
Throughout history, one idea has been proven over and over again: if you manage to create something groundbreaking and unique, imitators will come out of the woodwork to try and create their own version. There's just no substitute for the real thing, and when it comes to minivans, the realest of real things is the 2018 Dodge Grand Caravan. The successor to the original Dodge Caravan that started it all back in 1983, the 2018 Dodge Grand Caravan is better and more versatile than ever, while everyone else is still playing catch up. If you're looking to buy a 20198 Dodge Grand Caravan in Bentonville, Arkansas, stop in today at McLarty Daniel CDJR, or browse our big selection of 2018 Dodge Grand Caravan models online right now!
DESIGN: Those looking to buy a 2018 Dodge Grand Caravan might be after a carpool workhorse, but that doesn't mean you have to sacrifice great exterior styling and design. Up front, the Dodge Grand Caravan's crosshair grille, bold headlights and functional front air dam with available integrated fog lamps speaks to Dodge's long heritage of great design, while the functional roof rack ups the cargo capacity for long vacations and road-trips. Available dual power sliding doors and rear liftgate take the chore out of closing the doors, while deep tinted rear sunscreen glass in the sides and rear hatch help keep the squinting to a minimum. Available in five colors, from the beautiful Octane Red to the classic Black Onyx, the 2018 Dodge Grand Caravan is ready to take you there in style.
CAPACITY: Between taxi duty for the crew and cargo van duty when you have things to haul, minivans have to wear a lot of hats. The 2018 Dodge Grand Caravan takes those shifting roles in stride with comfortable seating for up to seven. Thanks to stow n' go seating, the 2018 Dodge Grand Caravan can go from family truckster to cargo van in seconds, with the second and third row seating flipping seamlessly into lidded pockets in the rear floor, for level and flat loading and cargo room that can take on everything from a kayak to 8-foot sheets of plywood with the rear hatch securely shut. Versatile hidden storage abounds, including an available overhead bin for rear-seat passengers, a large compartment in the flow-through console, and a large, lidded compartment behind the rearmost seat. Under the hood, meanwhile, is the reliable 3.6-liter pentastar V6, with 283 horsepower and up to 1500 pounds of towing capacity while maintaining up to 25 miles per gallon on the highway.
SAFETY: The safety of you and your family is one of the most precious things you have, and the 2018 Dodge Grand Caravan treats safety as the most important job, with over a dozen active and passive safety features. A safety frame of high-strength steel is built right into the passenger compartment of every 2018 Dodge Grand Caravan, which features seven advanced airbags, including larger side-curtain airbags, to cushion the blow in the event of an accident, as well as active front head restraints that cradle the head in the event of a rear-impact crash, and crumple zones designed to disperse and distribute energy during a collision. All-Speed Traction Control has your back any time you're behind the wheel, monitoring for wheel slippage hundreds of times a second and sending power and brake pressure to the wheels that slip while shunting power to the wheels with grip. Coupled with electronic stability control and advanced anti-lock brakes, it's a great friend to have in your corner.
Heard enough to convince you that the 2018 Dodge Grand Caravan is the minivan you need in your life right now? If so, the next step is to take a drive and finish being convinced. If you would like to buy a 2018 Dodge Grand Caravan in Bentonville, Arkansas, stop in today for a test drive at McLarty Daniel Chrysler Dodge Jeep Ram in Bentonville. We've got the 2018 Dodge Grand Caravan in all option packages and trim levels, so we're sure to have the Caravan that's right for your needs and your budget. Shop our big selection online now, and then come see us!
Click here to contact McLarty Daniel CDJR of Bentonville, or