2018 Jeep Wrangler JL for sale in Rogers, Arkansas | McLarty Daniel CDJR of Bentonville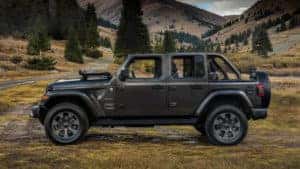 McLarty Daniel Chrysler Dodge Jeep Ram of Bentonville has a 2018 Jeep Wrangler JL for sale near Rogers, Arkansas.
There's only one Jeep Wrangler, and other than adding a couple of doors a few years back, the basic, iconic design of a Wrangler doesn't change often. When it does, it's a big deal. Brand new from the ground up, the 2018 Wrangler JL is the first new Wrangler in 12 years. It's full of new design details that respect the classic Jeep shape while modernizing the form, plus loads of great engineering underneath to help pack your 2018 Jeep Wrangler JL with even more fun, on the road or off. You may not believe it, but it's the best Jeep Wrangler ever built. Unconvinced? Stop in for a test drive at McLarty Daniel Chrysler Dodge Jeep Ram in Bentonville. We've got the all-new redesigned 2018 Jeep Wrangler JL, with more arriving daily. Come see us to find out how you can find your way to adventure behind the wheel of an all-new 2018 Jeep Wrangler JL, and read on for details on what makes the Wrangler JL the best Wrangler ever!
Click here to shop our selection of 2018 Jeep Wranglers
Iconic Design
Ever since Jeep's beginning on the battlefields of World War II, a Jeep has had one basic shape, so simple and utilitarian and perfect that it can and has been considered sculptural art. The high ground clearance. The boxy nose. The seven-slot, stamped steel grille. The removable top, near vertical windshield and short passenger "tub" that ends right behind the rear wheels. When the flagship of your brand is so associated with a certain "look," you don't mess with that a lot. It's a lesson that was clearly taken to heart by the designers of the all-new Wrangler. The changes are there if you look for them, though, and every one of them was made to make the new Wrangler JL look more aggressive, more capable, and bolder. The stance is wider than ever, with a lowered beltline that allows for larger windows. Up front, the seven-slot grille is slightly curved for improved aerodynamics, and features larger headlights, that intrude upon the outermost slots. The wheel flares are larger, for bigger tires, but retain their familiar trapezoidal shape. The 2018 Wrangler JL is available with any of six different tops, including the all-new Sky One-Touch power slider, which incorporates a sliding fabric roof into a removable hardtop. Also coming later this year are newly-designed half-doors. The windshield has been leaned back a few degrees over the previous model, and now is topped with a steel header that stays in place if you lay the windshield down, to preserve the integrity of the high-strength steel roll cage.
Iconic capability
No compromises, go-anywhere capability is kinda Jeep Wrangler's thing, and it has been that was for a long, long time. Given that long history of off-road prowess, the engineers of the all-new 2018 Jeep Wrangler JL knew that they had a tough act to follow. Several of them, actually. The Wrangler JL not only meets that high bar, it bests it, with a combination of high-tech and good ol' brute force that results in the most capable Wrangler ever. The JL is available with two advanced 4×4 systems, plus a new two-speed transfer case with full-time all-wheel drive that's a first in Jeep history. On standard Jeep models, the Command-Trac 4×4 system is equipped with a two-speed transfer case, a 2.72:1 crawl ratio, and legendary Dana front and rear axles with 3.45 gears in the differentials. Off-road capability is kicked up a notch on Wrangler Rubicon, with the Rock-Trac 4×4 system, which features heavy duty Dana 44 axles front and rear with 4.10 gear ratios, for a 4LO crawl ratio of 4:1. Helping the Wrangler Rubicon take on severely uneven terrain like rock crawling is a revolutionary new electronic sway bar disconnect that ups the available suspension travel over a foot. Short front and rear overhangs plus a ground clearance of 10.9 inches under the front and rear end pumpkins allows the Wrangler JL to ford water of up to 30 inches deep, and scale obstacles at an approach angle of 45 degrees. Powering you through under the hood is the all-new turbocharged 2.0 inline four cylinder with 270 hp and 295 lb.-ft of torque, with maximum fuel economy, of the 3.6-liter Pentastar V6, with 285 hp. Either can be coupled with a manual transmission, or the 8-speed automatic.
With a modern take on classic Jeep styling, high technology inside, outside, underneath and under the hood, and the bombproof engineering you've come to expect from Jeep, the new 2018 Jeep Wrangler JL is the Wrangler you've been waiting for. Tougher, smarter, bolder and more capable, it can carry you through no matter what Mother Nature throws at you. Are you ready to get out there and find adventure in your all-new Wrangler? If so, come see us at McLarty Daniel Chrysler Dodge Jeep Ram in Bentonville. We've got the 2018 Wrangler JL here, and more are arriving daily. Stop in today for a test drive, or browse our big selection of 2018 Jeep Wranglers online.
Click here to contact McLarty Daniel CDJR of Bentonville, or click here to fill out a finance application today!