2018 Jeep Wrangler Road Trip: Hot Springs! | McLarty Daniel CDJR of Bentonville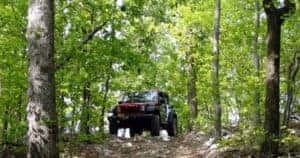 Summer is winding down, but there's still plenty of time to get out there and find adventure in that great new 2018 Jeep Wrangler you just bought from McLarty Daniel Chrysler Dodge Jeep Ram of Bentonville! Your Wrangler is always up for a little open-air cruising, and the Spa City is an Arkansas road trip classic, full of great things to eat, see and do. Read on for our picks for great things to experience during a day trip to Hot Springs, and if you're still in need of a 2018 Jeep Wrangler to get you there, come see us at McLarty Daniel CDJR. With loads of 2018 Jeep Wrangler JKs and JLs in stock, we're your Northwest Arkansas Jeep Superstore, where our friendly hometown deals will get you behind the wheel of a new Jeep on the cheap!
Explore America's Pastime with the Hot Springs Historic Baseball Trail!
Locations all over Hot Springs
As a destination city that has been drawing in the famous and infamous for over 125 years, Hot Springs National Park has played host to all manner of Americans, but few so famous as the Major League Baseball players who came to the Spa City in the early 20th Century to shake off the winter blues prior to the season. Way back in 1886, the legendary A.G. Spalding and Cap Anson brought the team then known as the Chicago White Stockings (now the Chicago Cubs) down to Hot Springs for the then-unheard of concept of "spring training." After seeing the positive effects of getting a jump on conditioning, other teams followed suit. Soon, everybody who was anybody in baseball was spending up to a month every spring in town, including giants like Honus Wagner, Ty Cobb, Babe Ruth, Cy Young, Dizzy Dean, and hundreds of others. With stops all over town, the Hot Springs Historic Baseball Trail leads visitors through this nearly-forgotten piece of local lore, with an interactive app and driving tour that can be downloaded at: www.hotspringsbaseballtrail.com

Give your Jeep a workout at Hot Springs ORV Park!
2100 Millcreek Road
Your Jeep Wrangler was built to take on the humps, lumps and bumps that would put other vehicles in the junkyard, so it's good to let that sucker stretch its legs and show its capability from time to time. A perfect place to do that is Hot Springs ORV Park. Formerly known as Superlift ORV Park, the massive 1,254 acre facility is a world-class off-roading and rock-crawling destination, as proven by the constant stream of high-dollar, full cage crawlers headed out there on the weekend. Open Thursday through Monday from 9 a.m. to dusk, Hot Springs ORV Park features over 75 miles of varying-level trails, in difficulties from an easy ride in a stock Jeep to hairy, near-vertical climbs, giant boulders, and ravines that will test the limits of even high-horsepower rigs. The park accepts pretty much anything motorized with wheels on it, including 4x4s, ATVs dirtbikes and side-by-sides. ATV and motorcycle riders must wear a DOT-approved helmet. There's RV and tent camping on site so you can make a weekend of it. Admission is $30 per day for 4x4s or side-by-sides, and $15 for ATVs and motorcycles. For more info, visit their website at www.orvpark.com

Get your 'Cue on at McClard's Barbecue
505 Albert Pike Road
Back in 1928, when a tapped-out visitor to Hot Springs' Westside Tourist Court offered the owners the recipe for what he claimed was "the world's greatest barbecue sauce" in lieu of payment for his $10 stay, little did he know he was helping start one of Arkansas's longest-running and most storied culinary enterprises: McClard's Bar-B-Q. Still open, still using that barbecue sauce recipe, and still run by the same family all these years later, McClard's is just a few blocks down from where Alex and Gladys McClard's little tourist motel, gas station and diner once stood. Their great grandson, who now owns the place, is still dishing up some of the best barbecue in the state to travelers, some of whom drive for miles to get their regular McClard's fix. The menu, like the restaurant, is old-school and simple: excellent, slow-smoked ribs, pork and beef brisket, served "wet" with the tangy, flavorful sauce or "dry" without it. Not in the mood for barbecue, tuck in to another Arkansas delicacy: McClard's famous southern hot tamales. If you're really hungry, go for the "Whole Spread," with two tamales topped with Fritos, beans, chopped beef, cheese and onions. Note: they're cash only, so don't forget to hit the ATM before you go.

Let the Gangster Museum of America make you an offer you can't refuse!
510 Central Avenue
As was the case with the aforementioned baseball players, the rowdy nightlife of Hot Springs in the 1920s also drew in a more nefarious crowd, with legit mobsters from northern cities like Chicago, New York and Boston coming to town to partake in the baths — and the gambling and other vices that were allowed to go on while police conveniently looked the other way. Gangsters like Lucky Luciano, Owney Madden, and even the infamous Al Capone were all regulars in the city back in the day, strolling the boulevards in the company of Tommy Gun-toting bodyguards and cruising the famous Bathhouse Row in armored Cadillac limousines. Though the law or the bloody results of living and dying by the sword eventually caught up to the gangsters who once haunted Hot Springs in the lawless glory days, you can relive some of that history at the Gangster Museum of America. The only museum solely dedicated to the history of organized crime in America, the Gangster Museum is a great place to learn about the wild ol' times in Hot Springs, when mobsters and their gun molls rubbed elbows at the speakeasies with local politicians. General admission is $15 for adults, and $6 for kids 8-12.  


When it comes to interesting things to see, eat and do, there's no place better for a road trip than Arkansas, and there's no better way to get there than behind the wheel of a new 2018 Jeep Wrangler from McLarty Daniel CDJR of Bentonville. If you're in need of one of the best four-wheeled friends you'll ever have, stop in today and check out our huge selection of Wranglers, including the unstoppable 2018 Jeep Wrangler Rubicon! We've got them in stock and ready to roll, and our unbeatable deals mean you can park one in your driveway for thousands less. Come see us today for a test drive, or check out our big selection online.

Click here to contact McLarty Daniel CDJR of Bentonville, or click here to visit our finance department.