2019 Jeep Wrangler for sale in Fayetteville, Arkansas | McLarty Daniel CDJR of Bentonville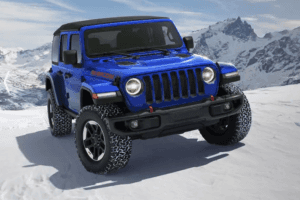 When America is so wild about a vehicle that people get tattoos espousing their devotion to the model, it's a pretty safe bet it's got what you might call a devoted following. That's rare in the world of cars, trucks, vans and SUVs, but it does happen. Case in point: Jeep Wrangler. Since the first spunky Jeeps rolled into combat during World War II, the classic short-wheelbase, mud hungry off-roader has inspired a cultlike devotion among fans thanks to its function-first styling, ease of customization and go-anywhere capability. With the all-new 2019 Jeep Wrangler JL, Jeep takes its flagship SUV to the next level, with a 4×4 that's ready for anything, from navigating the urban jungle to taking on the real jungle, desert, backwoods trail or sand dune. Looking to buy a 2019 Jeep Wrangler in Fayetteville? Then stop in today at McLarty Daniel Chrysler Dodge Jeep Ram of Bentonville. With our great selection of Jeep Wrangler models and commitment to friendly, hometown deals, we're sure to have a 2019 Jeep Wrangler that meets both your needs and your budget.
Click here to shop our selection of 2019 Jeep Wrangler models online
ICONIC STYLING: While Jeep Wrangler styling might not seem to have changed much over the years, Jeep fans can cite chapter and verse of all the ways the model has changed over the years. With the 2019 Jeep Wrangler, the iconic form is nipped, tweaked and refined just enough to make it better while still remaining unmistakably Jeep. Up front, the classic seven-slot grille and round headlights remain, though the grille shell is narrowed and curved for better aerodynamics. The windshield is laid back subtly for the same reason, leading into a body with a wider, more confident beltline. New on the Wrangler JL is the fixed windshield header, allowing you to lay down the windshield while still retaining the strength of the built-in rollcage and rearview mirror placement. Want open air fun without the hassle of popping off the hardtop of folding the soft top? Check out the all-new Sky One-Touch sliding power top, which can open up the entire roof in seconds at the touch of a button.
UNSTOPPABLE CAPABILITY: When Jeep ran with the slogan "There's Only One Jeep," they weren't talking about the model itself. Jeep has made millions of 'em over the years! What they were talking about is Jeep's legendary off-road capability, known and respected the world over. No other vehicle is as adventure ready at the drop of a hat, with every drivetrain component built to withstand whatever the trail might throw at you and your Jeep. For ultimate off-road prowess, check out the legendary 2019 Jeep Wrangler Rubicon. Sitting on 33-inch all-terrain tires, with higher fender flares to compensate for unbeatable suspension articulation as you crawl over rocks and obstacles, the 2019 Jeep Wrangler Rubicon comes standard with the bombproof Rock-Trac 4×4 system, the strongest and most robust running gear of any Jeep, with the legendary NC241 transfer case, crazy-strong Dana 44 front and rear axles, a 4:1 low gear ratio, Tru-Lock electronic front and rear locking differentials, a full complement of heavy steel skidplates, electric front sway bar disconnect and more.
MAKE IT YOUR OWN: One of the reasons Jeeps are so popular is because they are the most customizable vehicles on the road, hands down. In addition to an incredibly healthy aftermarket parts selection, with thousands of accessories, lift kits, alternate tops and suspension components available, there's the Mopar Performance catalogue, with over 1,000 Wrangler-specific items. Too, straight from the factory, your 2019 Jeep Rubicon can do things no other vehicle out there can. Over the front seats on hardtop models are the exclusive Jeep Freedom Panels, which can be taken off and installed with zero tools, with storage in the rear. Take out eight simple bolts with the factory-supplied toolkit and the lightweight, high-strength aluminum doors pop right off and reinstall just as easy. Remove eight more bolts with the same toolkit, and the hardtop lifts right off, for al fresco wheelin'. Four more bolts, and the windshield lays down against a rubber, hood-mounted bumper. Jeep Wrangler is the only vehicle made with these open-air superpowers, which makes it perfect for all seasons. Buttoned up, it's a dry and capable winter wagon ready to take on the snow. Pop off the top and doors, and you've got a full-convertible cruiser ready for hot summer nights. No other vehicle is so versatile.
Are you ready to buy a 2019 Jeep Wrangler in Fayetteville? Of course you are! The next step is to stop by McLarty Daniel CDJR of Bentonville. Our selection of Jeep models is second to none, and that includes the all-new 2019 Jeep Wrangler JL. Stop by today for a test drive and talk to our friendly finance professionals. We can get you behind the wheel of a new 2019 Jeep Wrangler JL at a price you can afford!