2019 Ram 2500 for sale in Rogers, Arkansas | McLarty Daniel CDJR of Bentonville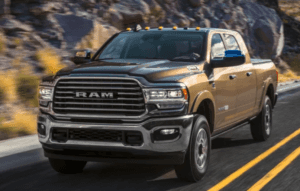 We're just going to say it: the 2019 Ram 1500 is one heck of a truck, with styling, performance, capability and comfort that are just second to none. When you need even more from your truck than even the beautiful new 2019 Ram 1500 can provide, however, we have the answer: the 2019 Ram 2500. Built heavy duty from the ground up for the most punishing work you can throw at it, the 2019 Ram 2500 can work can to can't while still providing the beautiful styling and unmatched interior comfort you've come to expect from Ram. Ready to buy a 2019 Ram 2500 in Fayetteville, Arkansas? Then you need to stop in today at McLarty Daniel Chrysler Dodge Jeep Ram of Bentonville, where our selection of 2019 Ram 2500 models is simply unmatched. Come see us for a test drive, or check out our big selection of new 2019 Ram 2500 models online today!
Click here to shop our full selection of Ram 2500 trucks
RAM TOUGH ENGINEERING: You can't just up and quit on your toughest workdays, and you need a truck that won't quit, either. That truck is the 2019 Ram 2500. Strong things start with strong foundations, and the frame of the 2019 Ram 2500 is the strongest: fully boxed, and made of 98.5 percent high-strength steel, for superior resistant to flexing and twisting, while saving weight. Hung from that frame are front and rear axles that are stronger than the previous model while also being lighter, plus Active-Tuned Mass Modules and hydraulic cab mounts to soak up even the worst humps and bumps and make it feel like you're riding on a cloud. Want even more capability Then check out the available four-corner air-ride suspension, with an onboard air compressor and the capability to raise or lower ground clearance by several inches at the touch of a button, plus automatic leveling to eliminate the dreaded squat when towing or hauling.
RAM TOUGH PERFORMANCE: Building on the groundbreaking styling of the all-new 2019 Ram 1500, the 2019 Ram 2500 looks great from any angle, and features one of the quietest, most comfortable, most luxurious cabins in the industry. Great looks are nothing, though, without the muscle to back them up. The 2019 Ram 2500 delivers with the best engine lineup of any heavy duty truck. That starts with the standard power of the legendary 6.4-liter gasoline Hemi V8., with 410 horsepower and 429 lb.-ft. of torque on tap, backed by Ram's heavy-duty 8HP75 heavy duty eight-speed automatic. If you're serious about towing and hauling, the name Cummins is probably well-known to you. If so, check out the available Cummins 6.7-liter inline six cylinder turbodiesel. Sixty pounds lighter than the previous generation of Cummins while packing a stronger block and components, plus the new variable-geometry turbo, the engine is good for an incredible 850 lb.-ft of tow-hungry torque. Still not enough? Then you're ready for the 6.7-liter Cummins High Output, with 400 horsepower while achieving the magic number of 1000 lb.-ft. of torque! It's the strongest diesel engine of any heavy duty truck.
RAM TOUGH CAPABILITY: For almost 100 years, Ram trucks have been the gold standard when it comes to won't-quit capability, towing and hauling. The 2019 Ram 2500 ups the ante considerably, thanks to that world-class horsepower and torque we mentioned above. How much capability are we talking here? With the power of the 6.7-liter Cummims Turbodiesel and the all-new 6.7-liter Cummins Turbodiesel High Output, plus an upgraded structural crossmember over the rear axle designed to create a rock-solid foundation for Fifth-Wheel and Gooseneck towing, the 2019 Ram 2500 equipped with the High Output Cummins can tow an incredible 35,100 pounds — over 17.5 tons! — and haul a payload of up to 7,680 pounds! When it comes to heavy duty trucks, it literally doesn't get any better than that.
If you've got the heaviest loads to tow and haul, do yourself a favor and get to know the incredible new 2019 Ram 2500. Stronger, tougher, more powerful, more comfortable and more beautiful, it's the "do it all" truck that will work until you're ready to call it a day. Want to buy a 2019 Ram 2500 in Fayetteville? Then stop in soon for a test drive at McLarty Daniel CDJR of Bentonville, or check out our big selection of 2019 Ram 2500 trucks online right now.
Click here to contact McLarty Daniel CDJR of Bentonville to schedule a test drive