BUY A NEW 2020 DODGE DURANGO FOR SALE NEAR BELLA VISTA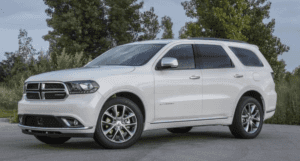 Experience the legacy of Dodge when you drive the 2020 Dodge Durango, and get to know the legendary powerful capacity in a sleek, modern package. Get into a brand new 2020 Dodge Durango today! Come visit your friends at McLarty Daniel Chrysler Dodge Jeep Ram of Bentonville, near Bella Vista, Arkansas. Our personable and friendly sales team will help you find the right vehicle for your needs, guaranteed.
CLICK HERE TO VIEW OUR AWESOME SELECTION OF 2020 DODGE DURANGO MODELS
IMPRESSIVE INTERIOR DESIGN: The redesigned interior of the new 2020 Dodge Durango has more optimized controls and more comfort than ever. It's space to relax in, loaded with quality materials, and made for the ultimate in comfort. The cabin provides head and leg space and comfortable seating, with a cockpit-style design and sleek gauges. The standard 7-inch reconfigurable digital speedometer is front and center for easy visual access to your Durango's status, fuel economy, audio information, navigation information. There's also storage galore thanks to the 2020 Dodge Durango's console configuration.
PACKED WITH ADVANCED FEATURES: For your fast-paced lifestyle, the brand new 2020 Dodge Durango is the vehicle to have. The 2020 Durango is loaded with the best driver-assistance and technology features on the market. Bluetooth phone connectivity comes standard on all trims, providing easy access from navigation to phone calls with excellent audio quality. Buyers can choose the optional 8.4-in touchscreen and rear-seat entertainment system, with dual rear high-definition screens and HDMI and RCA ports for your devices.
POWER AND ENDURANCE: The brand new 2020 Dodge Durango is all about sophisticated power, providing the engine choices you need for the way you live. The 2020 Durango comes standard with a 293-horsepower, 3.6-liter Pentastar V6 and the powerful 8-speed automatic transmission, providing 6,200 lbs of towing capacity. If you need a boost in towing, also available is the 360-horsepower 5.7-liter V8 providing 7,400 lbs of towing capacity. The 2020 Dodge Durango was designed for business and pleasure.
The new 2020 Dodge Durango features the latest innovation in driving assistance and safety technology. What a vehicle being both sport utility and sophisticated luxurious. Check it out for yourself! Come visit us at McLarty Daniel Chrysler Dodge Jeep Ram of Bentonville, near Bella Vista, Arkansas, and let us introduce you to the new 2020 Dodge Durango. We hope to see you soon!