Buy The New 2020 Ram 2500 Laramie For Sale In Bentonville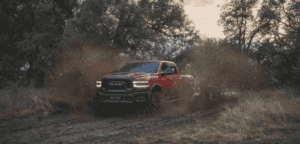 Take on the heavy duty jobs with confidence in the new 2020 Ram 2500 Laramie! For your toughest days, it is crucial to have a truck that has the capability. The all-new 2020 Ram 2500 Laramie sets the benchmark for power and comfort, with award-winning high-tech features that leave the competition in the dust. If you are in the market for a heavy-duty pick-up, contact us at McLarty Daniel Chrysler Dodge Jeep Ram of Bentonville, let us assist you in the truck you can rely on!
CLICK HERE TO VIEW OUR GREAT SELECTION OF 2020 RAM 2500 LARAMIE MODELS
CHOICE IN POWER: The core to a perfect heavy-duty truck is its powertrain. The new 2020 Ram 2500 Laramie is it! The all-new 2020 Ram 2500 was awarded Popular Science Magazine's 2020 Best of What's New in their Auto category. You get a great selection for power! The awesome 6.7-liter Cummins Standard-Output Turbo Diesel. This beauty produces 370 horsepower and 850 lb.-ft. of torque. With the 6.4-liter Hemi V8, the new Ram 2500 Laramie delivers best-in-class gas engine power, with up to 410 horsepower and 429 lb.-ft. of torque, thanks in part to VVT with Fuel Saver Technology cylinder deactivation.
TOUGH AND DURABLE: Make the toughest job easy peasy! The new 2020 Ram 2500 Laramie has superb handling performance. Class-leading ride and handling is accomplished via the available link-coil rear suspension system with optional rear air suspension, allowing the new Larmarie to deliver maximum towing capability up to 19,780 pounds. You are getting top-class performance from the new Ram 2500 Laramie.
FRESH AVAILABLE OPTIONS: All new for 2020 is the Ram Heavy Duty Night Edition for Laramie models. This trim includes monochromatic design enhanced by black 20-inch wheels, black badging and black interior, with the exterior available in a variety of body colors. Also new for 2020 are many safety features, including Lane Keep Assist, Adaptive Steering, as well as Blind-spot Monitoring features now available on all trim levels. Two new exterior colors are also now offered: Olive Green and Hydro Blue. These are just a few of the new features and options available with the new 2020 Ram 2500.
With award-winning capability and performance, the new 2020 Ram 2500 is the heavy-duty truck to have. The 2020 Ram 2500 Laramie pickup is equipped with all-new features and available options that offer more versatility and capability than any other in its class. Contact your friends at McLarty Daniel of Springdale, Arkansas, and ask us about the terrific power and handling performance of the new 2020 Ram 2500. Hope to hear from you soon!