Four Ice Cream Shops You Must Visit in NWA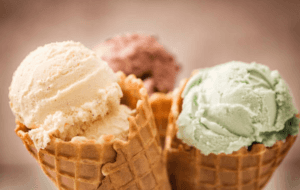 Summertime arguably has the best treats for those with a sweet tooth. Ice cream, popsicles, gelato, Italian ice… the list goes on and on. Taking the family out for a dessert run is always a fun adventure and there's plenty of great ice cream shops in Northwest Arkansas for you to visit! Let's take a look at some of our favorites.
Sparks Café Soda Fountain
Craving an authentic ice cream parlor experience? Look no further than Sparks Café Soda Fountain! Take a seat in their barstools and let their talented scoopers treat you to a delicious summer delicacy. It's hard to beat their Moonpie Palooza, two large scoops of ice cream between Moonpies and topped with marshmallow, hot fudge and cherries. The whole family can find something at Sparks and they'll leave smiling from ear to ear!
The Happy Wagon
Northwest Arkansas's favorite Gelati spot is The Happy Wagon! Wondering what Gelati is? Take two layers of Italian shaved ice and sandwich a layer of custard in between them and– presto! They have fantastic summer flavors like watermelon, white peach and mango. Their Gelati is no joke! It's definitely worth piling the family into the car and zooming over to Rogers!
Burton's Creamery
Beat the heat at Burton's Creamery this summer. Choose from their delicious novelties like ice cream and brownie sandwiches and their impeccable ice cream pops. Burton's offers some of the best soft-serve ice cream that you'll find in Northwest Arkansas. Options like Ben's Beloved, The Duff and Cinnamonster have our mouths watering just thinking about them!
Smudgies Dessert Lab
Cruise on over to Smudgies for splendid dessert creations. You'll enjoy just how many sweets they pack into their dishes. Try their Smudgie, ice cream scooped into a warm donut filled with delicious toppings, or try their Sludgie, an ice cream and custard blend sprinkled with your favorite toppings. We recommend the Pablo and the Slim Shady!
We've got a brain freeze just thinking about all the delicious treats. Need a new ride to get your family on a dessert tour of NWA? The 2019 Chrysler Pacifica is the premier minivan and offers generous seating and storage for you and the entire family! We'd love to have you stop by McLarty Daniel Chrysler Dodge Jeep Ram in Bentonville and take one for a spin. You can fill out our contact form for more information on the Pacifica or use the map located on the right to pay us a visit! We hope your summer is filled with frozen treats!