Jeep introduces web-based reality series: 'Jeep Wrangler Celebrity Customs' | McLarty Daniel CDJR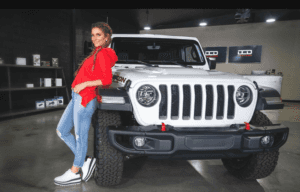 From trashy to entertaining, gross to glamorous, reality TV is hot, and the public's hunger for them seems to be insatiable. Now, Jeep is getting in on the act with a new web-based reality show called "Jeep Wrangler Celebrity Customs." The six-episode series, which is online now at jeep.com/celebrity customs, revolves around three teams from some of America's best customization and fabrication shops as they try to build a celebrity contestant's idea of the ultimate 2018 Jeep Wrangler JL.
Hosted by veteran NBA star Jalen Rose, the show features celebrity guest stars, including fourteen time Major League Baseball All-Star Alex Rodriguez, Access Hollywood and Extra! co-host (and some-time WWE combatant) Maria Menounos, and a third team headed by business partners Andrew Steinthal and Chris Stang, who founded the restaurant-ranking site The Infatuation. The contestants will team up with some of the best custom and fab shops in America to design and built their ultimate Jeeps on air from start to finish, using parts and accessories from the Jeep Performance catalogue.

Rodriguez will work with the legendary customization-shop-to-the-stars at West Coast Customs in Corona, California, Meanwhile, Menounos will work with the up-and-coming wizards of wheels at DCD Customs of Los Angeles. Andrew Steinthal and Chris Stang, meanwhile, will try to work some East Coast magic with AutoCraft NYC.

By utilizing parts from the Jeep Performance Parts catalogue, the teams will create Jeeps that can be replicated by anyone with a new 2018 Jeep Wrangler JL. The first bumper-to-bumper redesign of the iconic Jeep Wrangler in over a dozen years, the 2018 Jeep Wrangler JL is on dealer lots now, selling alongside the previous model, the 2018 Jeep Wrangler JK.  

Each of the episodes are under five minutes in length, and will debut weekly until the winning Wrangler is crowned on September 27, with the winner receiving the Wrangler Golden Grille Trophy. Between now and the end of the contest, each participant will be posting updates about the contest to their Twitter, Facebook, instagram and other social media accounts. To help viewers get in on the fun, you can vote for your favorite Celebrity Custom Wrangler design between September 27 to September 30, with the top vote getter being announced as the "fan favorite" on October 1.

With thousands of great Jeep parts and accessories in the Jeep Performance Parts catalogue, it's easy to see why so many Jeeps out there have been customized to make them the unique statement of their owner. Easy customization has long been part of the cult-like draw of owning a Jeep Wrangler, as seen in the millions of owner-customized Wranglers on the road today. If you're looking to buy a new 2018 Jeep Wrangler JL in Rogers, Arkansas, take the short drive to McLarty Daniel Chrysler Dodge Jeep Ram in Bentonville. We're your Northwest Arkansas Jeep Wrangler superstore, and our friendly service and unbeatable deals could save you thousands over the high-pressure dealerships up the road. Our service center can even do Jeep repairs in Bentonville, and can help you add those Jeep Performance Parts to dress up your ride, without affecting the factory warranty.

So stop in today and check out our big selection, or shop us online right now. This may not be reality TV, but we can get you to a reality where the 2018 Jeep Wrangler of your dreams is parked in the driveway, ready to help you find adventure out on the trails. Come see us!

Click here to contact McLarty Daniel CDJR, or click here to browse our full selection of Jeep vehicles.