Lego releases special Speed Champions kit, with the 2018 Dodge Challenger Demon and the 1970 Dodge Charger R/T!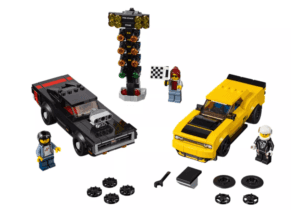 With over 1,200 factory horsepower between them, the incredible 2018 Dodge Challenger SRT Demon and the iconic 1970 Dodge Charger R/T clearly weren't just playing around. While not many of us can afford to own one of these legendary muscle cars, now you can own a pint-sized version. In a new partnership between Lego and Dodge parent company FCA, the world's leading building block toy gets a dose of Hemi power, with the all-new Lego Speed Champions building set, featuring build-your-own versions of the Dodge Challenger Demon and 1970 Charger!

The Lego Speed Champions kits are available through dodge.com, through online retailers, or wherever Lego sets are sold. Parts for both cars are available in the set, along with three exclusive Lego "mini-figures": a Challenger driver, a Charger driver and a race marshal to flag them in the ultimate desktop drag racing showdown! When completed, the cars are roughly ten inches long, and feature a minifigure-sized cockpit, removable windshield, rubber tires, two sets of rims, authentic details and decorative stickers to complete the look. The Charger features a removable high-hat supercharger that recalls the Dodge Charger seen in the original "Fast and Furious" movie, plus an alternate hood if you prefer a stock look.
"We know that many of our Dodge/SRT enthusiasts become fans of the brand at an early age, and like me, also grow up building LEGO vehicles that we dream of one day driving on the road," said Steve Beahm, Head of the Dodge SRT brand. "With the new Speed Champions set featuring the 2018 Dodge Challenger SRT Demon and the 1970 Dodge Charger R/T, our youngest fans can now build and jump into the 'driver's' seat of two of their ultimate fantasy muscle cars."  
"We are thrilled to bring the exciting Dodge designs to a LEGO build and play experience that is sure to capture the imaginations of not only LEGO fans, but also car lovers and the passionate community of Dodge enthusiasts around the world," said Chris Stamp, senior designer, LEGO Group.

Once you're through playing around, come check out the real thing at McLarty Daniel CDJR of Bentonville, where our big selection of 2019 Dodge Challenger models is second to none. One test drive, and you'll be a Mopar believer too! Stop in today, or check out our big selection online.