McLarty Daniel's CARFAX One-Owner Event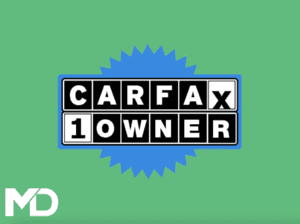 Our CARFAX One-Owner Event is in full swing for the month of August here at Mclarty Daniel Chrysler Dodge Jeep Ram in Bentonville, AR  but what exactly does that mean for you as the consumer? 
What is CARFAX anyways?
The CARFAX report summarizes the history of the vehicle since it left the factory. Records come from more than 112,000 different sources, including all U.S. states and Canadian Provincial Automobile Bureaus, police and fire departments, as well as collision repair shops, auto auctions, and more!
What can I expect to see on CARFAX reports?
According to carfax.com, The CARFAX database is perhaps the most comprehensive vehicle history database in North America, containing over 13 billion records. Records included in each CARFAX Report reveal important information about a car's history, such as an odometer reading, the existence of a branded title such as a salvage/junk title, or past registration as a fleet vehicle. A CARFAX Report may not include every event in a vehicle's history but will include the data that is reported to CARFAX for a specific vehicle identification number (VIN).
More examples of information found in a CARFAX report include:
Flood Damage History

Lemon History

Service Records

Total Loss/Accident History

Number of Owners

State Emissions Inspection Results

                                                                                                                                                                                                               Image courtesy of carfax.com
Why are the benefits of buying a CARFAX one-owner car?
According to carfax.com, there are several reasons to prefer one-owner cars. For starters, the vehicle is more likely to have complete maintenance records. Oftentimes different people have different approaches to car maintenance. A car with previous owners has a higher chance of encountering a person with less than ideal maintenance habits or even careless driving habits, directly impacting your prospective vehicle.
Next, with a one-owner vehicle, you're more likely to get the whole story. Some sellers will sell or trade in their cars once problems arise. If they sell their problematic vehicle to someone else without being honest about the issues, those problems can lead to more significant concerns down the road.
Finally, you get the benefit of buying a one-owner car knowing that fewer people have driven it. Fewer drivers or owners could directly impact your vehicle's state in terms of condition and cleanliness.
At McLarty Daniel CDJR, 54% of our used inventory only has one previous owner, meaning you'll be able to find the perfect vehicle with fewer miles and fewer problems! So, if you're in the Centerton, Bella Vista, Bentonville, Eureka Springs, Fayetteville, Pea Ridge, Springdale, or Rogers area, swing by today and let one of our friendly and knowledgeable sales professionals take it from there!