Modern Missile: the 2018 Jeep Grand Cherokee Trackhawk! | McLarty Daniel CDJR of Bentonville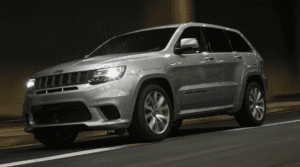 Ask any car nut what brands come to mind when we're talking ultimate performance, ludicrous speed and incredible horsepower, and Jeep is probably not likely to even be in the top ten. It oughta be, though. In recent years, the brand known for being the gold standard of off-road capability has shown it has some tricks up its sleeve at the racetrack as well, starting with the high-performance SRT8 Jeep Grand Cherokee all the way back in 2005. The brand may have now reached the acceleration mountaintop, however, with the 2018 Jeep Grand Cherokee Trackhawk. Read on for a few details about this full-tilt hot rod SUV from Jeep!

Click here to shop our selection of Jeep Grand Cherokee models, including the Trackhawk!
ENGINE? TRY "WARP DRIVE": Under the hood of the Jeep Cherokee Trackhawk is the same supercharged 6.2-liter Hemi V8 found in the incredible 2018 Challenger Hellcat. Assembled by hand in a special facility, the all-aluminum Trackhawk Hemi features high-strength forged alloy pistons, powdered metal forged connecting rods, and sodium-filled exhaust valves. Capping the engine is a 2.4-liter, low-profile twin-screw supercharger pushing 11.6 psi of boost. The combo is good for a whopping 707 horsepower, with 645 lb-ft of tire-shredding torque on tap.

STOUTER COMPONENTS THROUGHOUT: Jeeps are known for their toughness, but when you're putting 700-plus horsepower to the flywheel, toughness has to be taken to the next level. The eight-speed transmission has been reinforced to handle up to 800 lb.-ft. of torque, while the transfer case sending power to the all-wheel-drive system features forged internals and wider, stouter chains to drive the front and rear shafts. The driveshafts are Trackhawk-specific as well, with thicker steel tubing making up the shaft itself. Out back, the rear differential has been beefed up as well, with four spider gears made of high-strength steel. Bringing the "whoa" are massive 15.7 inch Brembo rotors in front with six-piston calipers, while the rear gets 13.8 inch rotors and four-piston clamps. The calipers get bright yellow paint.

LAUNCH IS SERVED: From their work on the Dodge Challenger Hellcat and Demon, Jeep's pals at Dodge have gotten very good at putting massive power to the ground with minimal wheel spin, resulting in tricks like the Demon's ability to pull the gatdang front tires from the factory(!) with zero aftermarket performance mods. The 2018 Jeep Grand Cherokee Trackhawk features the same "Torque Reserve" system as the Demon, which cleverly allows the engine and supercharger to rev higher just before launch, resulting in more boost and more horsepower on liftoff. Coupled with advanced traction control and all-wheel drive, that makes for brutal launches. Inside, where 4×4 off-road Grand Cherokees have a knob letting you optimize the suspension and throttle response for ice, rocks and snow, the 2018 Grand Cherokee Trackhawk also has a "Track" mode to handle launch control, including a tiny little set of drag strip "christmas tree" lights to tell you when to lift your foot off the brake and drop the hammer.

BY THE NUMBERS: All that high-tech traction control, beefed up running gear and straight up ignert horsepower under the hood makes the 2018 Jeep Grand Cherokee Trackhawk the Guinness World Record Holder as the world's quickest and fastest production SUV. How fast? How about a rocket-sledlike 3.5-second 0-to-60 time, and a 180 mile-per-hour top speed? How about an 11.6-second quarter mile, at 116 miles per hour? For a little perspective, the mighty 1970 426 Hemi Challenger, from the factory, would run the quarter mile in just over 14 seconds at 104 mph. That means the 2018 Jeep Grand Cherokee Trackhawk could blow the doors off the golden era's most legendary muscle car in factory trim, then drive home with the air-conditioner on. Sure, the $95,000-plus price of the 2018 Jeep Grand Cherokee Trackhawk is substantial, but when you consider a fully-restored, numbers-matching '70 Hemi Challenger can sell for north of ten times that at auction today, the Trackhawk is looking like both a bargain and a solid investment!

The undisputed king of the hill when it comes to performance SUVs and sure to be one of the most coveted collector vehicles of the future, the 2018 Jeep Grand Cherokee Trackhawk was made for the quarter mile. If you're looking to buy a new 2018 Jeep Grand Cherokee Trackhawk in Bentonville — and, let's face it, who wouldn't be? — we've got three of these rare birds on the lot and ready to put a big ol' smile on your face. So shop our selection online, stop in at McLarty Daniel CDJR of Bentonville, and become the envy of everyone on your block today!

Click here to contact McLarty Daniel CDJR of Bentonville, or click here to visit our finance department