Mopar Performance begins taking orders for 1,000-horsepower 'Hellephant' crate Hemi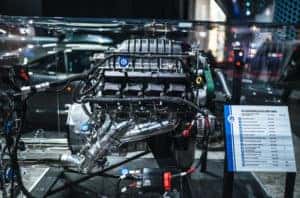 If you're into cars at all, the name Hemi has powerful connotations, having provided the considerable grunt some of the fastest and most coveted Chrysler, Dodge and Plymouth muscle cars in history. But even the fire-breathing street Hemis of the 1960s can't hold a candle to Mopar Performance's latest offering: the supercharged 426 cubic-inch "Hellephant" crate Hemi, which can produce a previously-unimaginable 1,000 horsepower and 925 lb.-ft. of torque on plain ol' pump gas. Offered for pre-order on "Hemi Day" — 4/26 — crate engine promises to take the horsepower wars to a new level, and can be pre-ordered online at: cratehemi.com

Previously announced at the 2019 SEMA show in Las Vegas, the Hellephant crate Hemi was an immediate hit with Mopar fans, says Steve Beahm, Head of Parts and Service for Dodge parent company FCA North America.
"The reaction when we revealed the 'Hellephant' engine at the SEMA Show was just amazing, and the momentum continued after the show, with close to 1,000 people expressing interest in buying this engine," Beahm said. "Power and performance are ingrained in our brand's DNA, and there is no better time to open pre-orders of this 1,000-horsepower, supercharged engine than on Hemi Day."

Starting with an all-aluminum block and heads to help cut weight, the Hellephant — a play on the old school nickname for the 426 Hemi: "The Elephant Motor" — features a four-inch crankshaft stroke and a 4.125 piston bore. The engine is capped with a high-efficiency, high-volume  supercharger. As delivered, the Hellephant includes a water pump, flywheel, front-sump oil pan, supercharger with throttle body, fuel injectors and coil packs.
If you want a Hellephant under your hood, better start saving your pennies now. The "Hellephant" 426 Supercharged Crate Hemi engine, available through Mopar Performance as Part #P5160194, has a starting price of $29,995 — or just a few thousand more than a base-model 2019 Dodge Challenger. The Hellephant Engine Kit (Part #77072500), which includes the engine controllers and wiring harness to get your Hellephant roaring right out of the box, is an additional $2,265. From there, you'll also need a front accessory drive, exhaust manifolds and 45-Degree Oil Filter, all of which are available through Mopar Performance.

It's another incredible offering from Mopar Performance, and the brand that is leading the way into a new Golden Age of high tech muscle cars. Ready to stop driving and start loving the drive again? Stop in today at McLarty Daniel CDJR of Bentonville and check out our full lineup of performance cars, including the SRT Hellcat Challenger and Charger!