The Coolest New Off-Road Vehicles at McLarty Daniel CDJR
If you want to talk about selection, McLarty Daniel Chrysler Dodge Jeep Ram in Bentonville has tons of cool new vehicles in stock. If you're in Centerton, Bella Vista, Bentonville, Eureka Springs, Fayetteville, Pea Ridge, Springdale or Rogers, we are the dealership for you. In this blog, we're highlighting a couple of our coolest new off-road vehicles.
Browse our selection of new vehicles.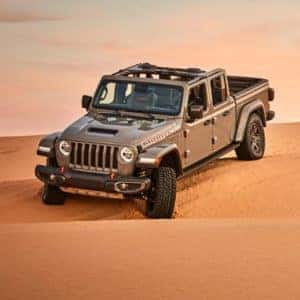 The first cool new off-road vehicle has got to be the Jeep Gladiator Mojave. You don't even have to be a Jeep fan to love this truck. It's the first-ever Desert Rated Jeep vehicle. Jeeps have always been known for their off-road capabilities, especially the Trail Rated models, but now this is a whole other level. The Jeep Gladiator Mojave has better traction, ride control, stability, maneuverability and ground clearance than other Gladiator trim levels. To help withstand punishment, the Gladiator Mojave has industry-exclusive FOX front hydraulic jounce bumpers. The upgraded FOX 2.5-inch internal bypass shocks with external reservoirs offer impressive performance across uneven terrain. You can also rest easy with the available rugged step sand sliders that help protect the frame and 17-inch wheels wrapped in 33-inch all-terrain tires that provide exceptional performance, off-road and on.
Browse our selection of the Jeep Gladiator Mojave.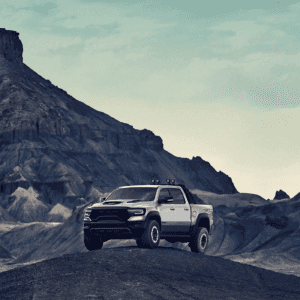 Number two on our list is the Ram 1500 TRX. The Ram TRX is the most powerful production street-legal half-ton pickup ever built. It has 702 horsepower and is capable of going from 0-60 mph in just 4.5 seconds. These numbers are impressive and we're still on gravel. This truck has eight drive modes allowing the TRX to adapt to any condition whether it's on or off-road. It has sport and snow modes like other full-size trucks but it also has mud/sand, rock and baja modes.
Browse our selection of the Ram 1500 TRX.
If you'd like to hear about more cool new off-road vehicles, stay tuned to our blog because this is just the beginning! If you want one of these bad boys for yourself, contact your friends at McLarty Daniel Chrysler Dodge Jeep Ram in Bentonville, Arkansas. One thing we love more than rubber meeting the road is when rubber meets the off-road.