RAM 2500 NAMED WINNER OF POPULAR SCIENCE MAGAZINE'S 2020 BEST OF WHAT'S NEW AWARD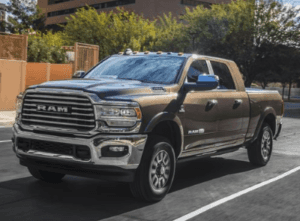 The established publication, Popular Science, annually reviews thousands of new products and innovations to choose the top 100 products from 11 categories. The product or technology is a significant step forward in its category. In the Auto Category, the all-new Ram 2500 was named Popular Science Magazine's 2020 Best of What's New award recipient. The new 2020 Ram 2500 exemplifies this by setting the benchmark for power and capability, along with comfort, luxury materials, innovation and technology.
NEW FOR 2020: The 2020 Ram 2500 comes with all-new available options, making the model even more attractive to buyers. "The Ram 2500 Heavy Duty is among the Best of What's New because its unique blend of tech makes it tough yet sophisticated," said Joe Brown, Editor-in-Chief of Popular Science. New for 2020 are a slew of safety features, including Lane Keep Assist, Adaptive Steering, as well as Blind-spot Monitoring features now available on all trim levels. These are just a few of a huge list of new features and options available with the new 2020 Ram 2500.
AWARD-WINNING FEATURES: With the new 2020 Ram 2500, Ram is setting the benchmark for power and performance. For your toughest days, choose the awesome 6.7-liter Cummins Standard-Output Turbo Diesel. This beauty produces 370 horsepower and 850 lb.-ft. of torque. With the 6.4-liter Hemi V8, the new Ram 2500 delivers best-in-class gas engine power, with up to 410 horsepower and 429 lb.-ft. of torque, due to VVT with Fuel Saver Technology cylinder deactivation. The Ram 2500 also sets the bar in comfort, luxury features, overall innovation and technology surpassing its competition.
RAW POWER: The raw awesome power of the new 2020 Ram 2500 is the perfect compliment to its superb handling performance. Class-leading ride and handling is accomplished via the available link-coil rear suspension system with optional rear air suspension, allowing the new 2020 Ram 2500 to deliver a maximum towing capability up to 19,780 pounds. Another attractive innovative feature only by Ram.
With a powerful combination of high-tech with tough capability, the new 2020 Ram 2500 sets the bar for heavy-duty trucks. With award-winning features and options available, the Ram 2500 pickup, is more attractive and cutting-edge than any other in its class. That is why the 2020 Ram 2500 won Popular Science Magazine's 2020 Best of What's New. See for yourself the stunning 2020 Ram 2500, come visit us at McLarty Daniel Chrysler Dodge Jeep Ram of Bentonville.