Springtime Care for Your Vehicle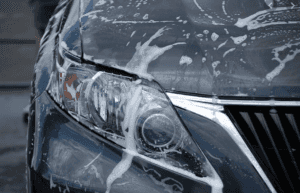 COVID-19  has changed the lives of tens of millions of Americans. But don't let that change how you take care of your vehicle during this time! It's springtime, with bugs, pollen, rain and all the other things Mother Nature can throw at your vehicle, giving it a real beating. If you don't keep a regular maintenance routine, your car's paint, rubber and chrome might even be damaged by acids in natural goop that lands on your vehicle.

Here are some tips for Springtime Car Care by your friends at McLarty Daniel CDJR Bentonville that can keep your car running, looking and smelling nice for countless springtimes to come. If your car is needing more than a wash and wax, maybe it's time to trade up! Contact us at McLarty Daniel CDJR in Bentonville today, or check out our big selection of new and used vehicles at our website right now.
SCRUB-A-DUB-DUB: Being home from work with a lot of time on your hands can get boring.  That makes this a great time to haul out the water buckets and hose, get some soap, and give your car a good bath. Car Washing by hand is a fun time outdoors in the sun, and kids of all ages love it! So break out your shorts and your sunscreen, and get to car washing. 

WAX IT: After washing and drying off your vehicle, the next important part of the process to making your vehicle look great and keep it that way is a thorough paste wax. In addition to making your vehicle shine like new, wax forms a protective barrier to keep gunk like bird poop and bug guts from potentially harming the paint. It takes some time, but many of us have plenty of that right now. It's a great workout too!

AIR FILTER MAINTENANCE: Don't forget to check your car's cabin air filter. Most new cars have one, usually located behind the glove compartment, and they can get very clogged in the springtime from all the pollen, dust, bugs and other contaminants. They're cheap and easy to change, with directions for changing the filters in most models available on Youtube.

KICK THE TIRES: Springtime is a great time to schedule checking your tire pressure and topping off your tires if they've dropped below the manufacturer's recommendations. Your tires are your car's connection with the road, and with temperature fluctuations in the spring, they can gradually lose pressure. Underinflated tires can wear unevenly or even fail quicker. So keep your pressure up to snuff. Set a repeating, once-a-month alert in your phone if you need a reminder. 

By following these simple tips, you can help your car fight off the onslaught of spring and stay in tip-top shape for years to come. And if your car just isn't setting your heart aflutter like springtime butterflies anymore, McLarty Daniel CDJR Bentonville is here for you, with the best selection of new Chrysler, Dodge, Jeep and Ram vehicles. Contact us, and check out our big selection online right now.