Jeep Hacks – Volume 1
Jeep owners aren't your average vehicle owners. They live by rules that only a Jeeper would understand. There's a camaraderie between one Jeep owner to the next, and it doesn't matter if they've never met. Part of that camaraderie comes from customizing and tricking out your Jeep and knowing how to use it to its fullest. When it comes to the Wrangler, there are tons of small tips and tricks that can be total game changers when you learn about them. We're talking about Jeep Hacks! We're starting a blog series all about Jeep Wrangler (and Gladiator) Hacks so you can get the most out of your Jeep. We can't wait to share them all with you because the Wrangler is one of our favorites here at McLarty Daniel Chrysler Dodge Jeep Ram in Bentonville, Arkansas.
Check out our new and used Jeep Wrangler inventory.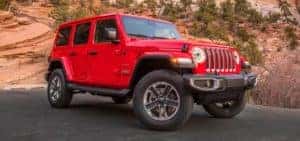 The first Jeep Hack comes from Amazon and it's a two-pack of front door cup holders. Anyone who owns a Wrangler knows storage space is limited. The doors offer mesh netting to store items but it's not the best place for a soda can or other drinks. Modern Wranglers come with two middle cup holders, but these front door storage pockets are designed to add some additional storage. Beyond being utilized for more drinks, you can also put your utility flashlight, multi-purpose tool, tire pressure gauge, and more in these additional pockets.
The second Jeep Hack is another Amazon item. This one is the back seat cup holder console. This may seem simple, but again, storage is limited in the wrangler so any extra space you can create for recovery tools or extra beverages will help. It's super easy to install and it's a game-changer for you and your passengers. You're probably sick of hearing your friends complain about the lack of cup holders in your Wrangler as it is.
If you'd like to learn more Jeep Wrangler Hacks, stay tuned to our blog because this is just the beginning! If you can't wait, contact your friends at McLarty Daniel Chrysler Dodge Jeep Ram in Bentonville, Arkansas. We love tips, tricks and hacks. Anything to help improve your adventures.