TOP ATTRACTIONS TO SEE IN NORTHWEST ARKANSAS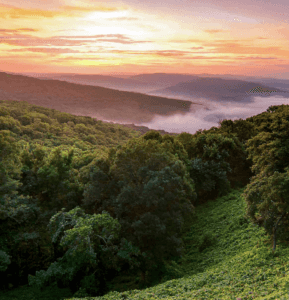 Spring fever is fast approaching! Who else is ready to change out of drab, heavy winter clothes and get geared up for warm weather and sunny skies? Springtime in northwest Arkansas is simply gorgeous with colorful foliage and fresh breezes sweeping through the Ozarks. There is no better time to get out and enjoy yourself. At McLarty Daniel CDJR of Bentonville, we sure do enjoy the springtime, with everybody out and about enjoying refreshing sunshine. Seen below, check out our list of things to do and places to visit this spring in northwest Arkansas. Enjoy! 
CYCLING: One favorite pastimes in northwest Arkansas is cycling and mountain biking, and there are a lot of great scenic spots to do so. Northwest Arkansas has hundreds of miles of single track, multi-use, paved and mountain bike trails, including trails at Mount Kessler, Fitzgerald Mountain, and the awesome 36-mile Razorback Greenway which features something for every skill level. All the northwest Arkansas communities have plenty of great and friendly bike shops to browse at your convenience, so get out your two-wheeler and get out there! 
CRYSTAL BRIDGES MUSEUM OF AMERICAN ART: One of the main attractions in Northwest Arkansas, Crystal Bridges Museum of American Art in Bentonville is home to five centuries of American art and architecture, which makes it a true feast for the senses. The surrounding outdoor grounds also display featured art pieces and architectural structures. There are a host of things to do at Crystal Bridges, from walking beautiful trails throughout the grounds to kids activities.
DICKSON STREET: If you're in the Fayetteville area, definitely check out Dickson Street. The heart and soul of historic Fayetteville. Dickson Street is the home of many of Fayetteville's most renowned restaurants and bars, including George's Majestic Lounge, Fayetteville oldest and longest running live-music venue, and the famous Dickson Street Bookstore, famous for having hundreds of thousands of used books, rare finds, and pristine first editions at great prices. 
SCOTT FAMILY AMAZEUM: A wonderful place to take the kiddos, the Scott Family Amazeum is an exciting interactive museum is great for kids of all-ages, featuring interactive exhibits centered on science, technology, engineering, art, and math. There is even a Hershey Chocolate Lab to do some taste-testing. With dozens of learn-by-doing exhibits, the Scott Family Amazeum has it something for the whole family.   
These are just a few things in NWA guaranteed to get you in the adventurous spirit, with a slew of fun activities and beautiful scenic spots to visit through northwest Arkansas. Springtime is a great time to relax and enjoy quality time with the family. Want to kick off the season in the right vehicle? Come by McLarty Daniel Chrysler Dodge Jeep Ram of Bentonville, Arkansas and let us assist you in purchasing the vehicle that will fit you and your family's busy lifestyle. We hope to visit with you soon!
CLICK HERE TO CONTACT OUR WONDERFUL MCLARTY DANIEL SALES TEAM