A Jeep Road Trip to the Spring River! | McLarty Daniel CDJR of Bentonville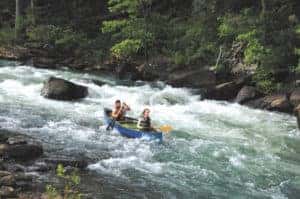 The punishing heat of summer is here, and between now and September, it will render a good bit of the day pretty much useless by way of soaring temperatures. You've got that great new Jeep Wrangler, Cherokee, Grand Cherokee or Renegade in the driveway, and you're just itching to roll some miles on the odometer. Don't you wish there was a place where it was still cool enough for outdoor fun?  Here at McLarty Daniel Chrysler Dodge Jeep Ram, we're always keeping an eye out of great places for a Jeep Road Trip, and this week, we've got a great one: The Spring River, a chilly little slice of heaven located in North Central Arkansas, 195 miles from Bentonville in Fulton County.

While you might be wondering why we're so big on a river almost 200 miles from home when we've got perfectly beautiful rivers right here in Northwest Arkansas, the Spring River is special. For one thing, the trip from Northwest Arkansas to the towns of Mammoth Spring and nearby Hardy takes you through some of the most beautiful stretches of highway in the Ozarks, not to mention lovely little towns like Alpena, Mountain Home, Salem and Yellville, letting you delight in the natural splendor as the mountains of the Ozark Plateau give way to the rolling foothills that serve as the gateway to the Mississippi River Delta further east.

For another thing, the Spring River, which runs a total of 57 miles before spilling into the Black River, is cold. We mean, really cold. As in: 58 degrees year round, even during the most oppressive heat of summer. The secret of the chilly Spring River is its source: Mammoth Spring. Located just a stone's throw from the Missouri border, Mammoth Spring is the largest natural spring in Arkansas and the second largest in all the Ozarks; a giant artesian well that gushes forth nine million gallons of crystal clear water per hour from the bottom of a natural, 10-acre lake located in the middle of Mammoth Spring State Park. That's enough to fill 13.5 Olympic-sized swimming pools per hour, and a total flow of 78.8 billion gallons per year!

Because of that constant natural flow, the Spring River is one of the most reliable floating, swimming and fishing rivers in Arkansas, always full even when other rivers have shrink to a trickle in times of severe drought.

Because of the constant flow of chilled springwater, the Spring River is crystal clear for its entire run, with long pools and whitewater populated with walleye and trout. It's also a favorite floating stream as well, with several canoe and kayak rental businesses in the town of Hardy. Pedal boats and single and tandem kayaks can also be rented for under $10 per hour at Mammoth Spring State Park.

Where to stay
Because of the popularity of the Spring River as a floating, swimming and fishing spot, there are a number of campgrounds, resorts, small hotels and cabin rentals near the river, including spots like 3 Rivers Outfitters, with cabins for rent near Hardy, and Many Islands Camp and Canoe near Mammoth Springs, which features 150 RV and tent camping pads with electrical, water and sewage hookups plus canoe and kayak rentals and a shuttle service for those who want to float a few miles and be returned to their campsite. For a more romantic and refined experience, check out Biggers Bed and Breakfast at 20 Bluff Road in Hardy, featuring Old World charm, fine accommodations, gourmet dining (see below) and an incredible view overlooking the Spring River.

What to eat
Because of all the tourist traffic in the area, the little town of Hardy has a restaurant selection that's way above par for a town that size. One of our go-to faves in the area is Artisan Steak House at 2178 Highway 62, with a great selection of steaks, sides, catfish and other great American offerings. If meat-and-three plate lunches are more your speed, try the Corner Booth Diner at 106 Main Street in Hardy, which features classic, stick-to-your-ribs fare like big breakfasts, biscuits and gravy, burgers, sandwiches and more. For more elegant fare, try the Bluff Steakhouse, located inside the previously mentioned Biggers Bed and Breakfast at 20 Bluff Road in Hardy, which features million dollar views along with a menu full of favorites like burgers, chops and steaks.

Where to shop
If you're in need of camping or outdoors supplies, or just those new shoes or shirt you need to look great on the river, be sure to hit Village Adventures, at 117 E. Main in Hardy. In addition to being an authorized retailer of great outdoor brands like Patagonia, Grand Trunk and Suncloud, they rent stand-up paddleboards and kayaks, and sell tents, kayaks, hammocks, flip flops, sunglasses and more. If artisan grade crafts are your thing, stop in at Miller's Leather Shop at 103 Main Street in Hardy, which features handmade wallets, purses, bracelets, belts, guitar straps, leashes, dog collars and more, all created one at a time by local craftsmen. If you'd like to make a new four-footed friend, check out Lazy Acres Riding Stables, at 5 Griffin Circle in Hardy, which offers 45-minute trail rides along the Spring River and other locations.

While it's probably a bit too far away to be considered a true day-trip, the Spring River near Hardy is definitely worth the trip, especially if you want to break in that great new Jeep you just bought from McLarty Daniel CDJR in Bentonville. If you're in need of a great new Jeep, come see us. We can put you behind the wheel of an adventure-ready Wrangler, Cherokee, Grand Cherokee, or Renegade at a price that will fit your budget. Come see us, and then get out there to the beautiful Spring River!

McLarty Daniel CDJR of Bentonville is a new and used vehicle dealership which is proud to serve the citizens and communities of Northwest Arkansas, including Lowell, Farmington, West Fork, Fayetteville, Bentonville, Springdale, Pea Ridge, Eureka Springs, Siloam Springs, Berryville, Fort Smith and all points in between.