Dodge stampedes SEMA with 1,000 hp 'Hellephant' crate engine | McLarty Daniel CDJR of Bentonville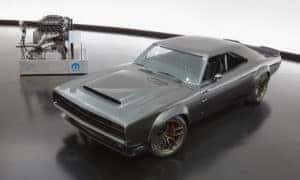 In the history of racing, few engines have attained the legendary status of the 426 cubic inch Hemi V8. Produced in vanishingly small quantities, with a valve train that even Dodge techs found complicated to work on and keep adjusted properly back in the day, the 426 Hemi was nonetheless embraced almost immediately by performance enthusiasts who wanted to go fast. Thanks to its large displacement and high horsepower, the engine earned the nickname "The Elephant" soon after it was introduced as a super-high output racing engine in 1965, and later slightly detuned for street cars like legendary Hemi Barracudas, Chargers, Coronets and Road Runners.  

With all things muscle car back in vogue, Mopar Performance has managed to one-up even the mighty 426 Hemi engines of the 1960s and early 70's with the "Hellephant," a new 426 Hemi crate engine that uses the latest in materials, fuel management, supercharging and engineering techniques to produce an astounding 1,000 horsepower and 950 lb.-ft. of torque on regular pump gasoline, straight out of the box.

Introduced at this year's Specialty Equipment Market Association show in Las Vegas, the Hellephant is the highest horsepower crate engine ever offered by an original equipment manufacturer, and will drop directly into many original Dodge, Plymouth and Chrysler muscle cars and truck with the help of a Hellephant installation kit. The engine assembly includes a flywheel, front-sump oil pan, throttle body, fuel injectors, water pump and coil packs.

The engine achieves that astounding four-digit horsepower number thanks in part to increased displacement, with a 4-inch stroke and 4.125-inch cylinder bore in an all-aluminum block to keep weight low, plus a special high-lift valve train and custom forged pistons. Capping the engine is an improved, high output supercharger. The "Hell" in the "Hellephant" name is a nod to many of the performance mods used in the engine being perfected through the incredible Dodge Demon and Hellcat Challenger models of recent years. A 707-horsepower "Hellcrate" Hemi was introduced at last year's SEMA show.    

Showcasing the new Hellephant crate engine at SEMA was a special custom car build: a 1968 Dodge Charger named the SuperCharger, which Dodge had on display as well. Featuring the Hellephant engine backed by a T-6060 six speed manual transmission from a Challenger Hellcat, widebody Challenger SRT Demon-style fender flares, a Hellcat-style hood scoop, and a host of custom car tricks on virtually every part and panel, the metallic gray old school muscle car was a big hit at SEMA, mobbed by fans for the entire show.

"Our enthusiasts crave power and performance and our new 'Hellephant' Mopar Crate HEMI engine and kit deliver huge horsepower and torque in a plug-and-play package that is unique in the industry," said Steve Beahm, Head of Parts & Service for Dodge parent company FCA North America. "The 1968 Dodge Charger is one of the hottest classic cars, which is why we decided to use it as a starting point for the 'Super Charger' Concept. It's an amazing vehicle and a great showcase for our 'Hellephant' engine."

Dodge says the 426 Hellephant crate engine and installation kit will be on sale through Dodge dealers in the first quarter of 2019, and that includes the parts counter here at McLarty Daniel CDJR of Bentonville! No word yet on pricing. For more information, visit the official Hellephant website at www.cratehemi.com.