Seven Car-Related New Year's Resolutions! | McLarty Daniel CDJR of Bentonville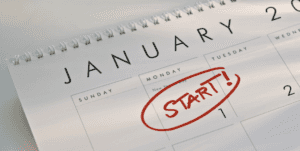 New Year's Eve is fast approaching, and that means it's time to make those New Year's Resolutions you're hoping to still be keeping by the time the Easter flowers emerge from the soil. From promises to work out more to pledges to eat sugar less, New Year's Resolutions are the most frequently made — and broken — vows we make throughout the year. There are, however, a few New Year's Resolutions that you shouldn't backslide on: those that relate to your car care and maintenance. Regular maintenance is a great way of making sure your four-wheeled friend is able to stick around longer, providing you with trouble-free service.

Accordingly, read on for 7 Vehicle-Related New Year's Resolutions that everybody should commit to following all year. And if your current ride is beyond all help, or you're just looking for a new car, truck, van or SUV to pamper, come see us at McLarty Daniel Chrysler Dodge Jeep Ram!

1) I Will Find My Owner's Manual And Read It: Nobody knows your vehicle like the company that built it, and they put that Owner's Manual in the glove compartment for a reason. From proper tire pressure to factory-suggested maintenance intervals to the reinforced places underneath where you should put a jack while changing a flat tire, the Owner's Manual is your key to making sure your vehicle is around to get you there and back for a long, long time.
2) I Will Teach Myself How to Do Automotive Detailing: While a quick car wash and vacuum of the interior is a good way to keep your vehicle looking minty fresh, after awhile, the normal wear, tear, grease and grime of driving can and will take their toll. That's when a careful, thorough auto detailer can really bring your vehicle back to like-new condition with the automotive equivalent of a day at the spa. The tricks detailers use aren't magic. You can learn them! If you have the patience, there's dozens of videos on Youtube where auto detailers share the tricks of the trade to keep your vehicle looking great.
3) I Will Not Eat In My Car: While the convenience of a little drive-up dinner is always tempting, and cup holders are there for a reason, nothing will age your car quicker than eating inside it on a regular basis. From crumbs to salt to greasy hands, food is messy stuff and every time you and your passengers chow down on the road, you're risking a mustard splotch, gooey handprint or glob of ice cream on the upholstery, not to mention making the interior smell like a Burger King or worse. So do yourself a favor and take 30 minutes to stop, get out, and eat. You'll thank yourself down the road, when your car doesn't have a scent more befitting a garbage truck. .   
4) I Will Regularly Get My Vehicle Washed and Waxed: Mother Nature is always trying to turn your beautiful car, truck, van or SUV into a filthy and rusted wreck. Don't help her out! By getting your car's exterior washed and waxed on a regular schedule, not only are you helping it look great, you're washing off dirt, grime, grit, bug guts and plant sap that can permanently micro-scratch, etch or oxidize your car's paint, chrome and alloy components if left to sit on the surface for too long. In addition, a nice coat of wax helps your car's paint and trim more easily shed dirt, splattered bugs and even the occasional paint splash from road work.

5) I Will Rotate My Tires in Accordance With the Manufacturer's Recommendations: While nobody wants to spend thirty minutes in the tire shop every 5,000 to 10,000 miles, if you want to make sure you get the most out of your very expensive tires, you have to rotate them regularly. Tires are much better than they were even a few decades ago, but they're not magic. Rotating your tires in accordance with the manufacturer's recommendations not only makes sure they wear evenly, it can also give your tire shop pros a chance to catch unseen sidewall damage that could lead to a catastrophic blowout on the freeway. That could save your life.
6) I Will Regularly Check My Oil: It's foolhardy to drive your vehicle like the hood is welded shut and hope for the best. Unforeseen things can and do happen, and even a brand new car can have a situation where it's leaking oil. Wait 5,000 miles until your next oil change with a pinhole leak that's bad enough, and you'll starve your engine for oil. That's when things get expensive. Keep the gremlins at bay by remembering to check your oil every other time you fill up. If you don't know how, check your owner's manual. While there's every chance in the world your oil level will be right on the money, checking is free insurance against the curve balls life can throw at your engine, allowing you to catch problems while they're still minor and can be easily fixed.
7) I Will Buy A Tire Pressure Gauge and Learn To Use It: Again, tire technology these days is light years beyond where it was just a few years back, but in order to function properly and safety, your tires must be properly inflated. Though many newer cars have a low tire pressure warning light, at that point you have to figure out which tire is the culprit. That's where an accurate tire gauge comes in. Tire pressure fluctuates throughout the year based on the temperature outside and how much driving you're doing. If your tires are over- or under-inflated, it can severely compromise the mileage you can expect to get out of them and potentially even put your safety at risk. So buy a tire pressure gauge and learn to use it. It's easy! Whether you choose an analogue or digital pressure gauge, they're cheap, and checking tire pressure literally takes seconds.   

By following these few simple resolutions, you can help your vehicle last longer and drive stronger, helping your ride give you thousands of miles of happy, trouble-free service. If you're resolved to get a new vehicle in the coming year, stop in soon at McLarty Daniel CDJR of Bentonville, where our great selection and honest deals will make you a friend and customer for life! Check out our big selection online right now! And from your friends in the car business at McLarty Daniel Auto Group, we wish you all the best in 2019.